Percherry was re-certified to ISO9001 on June 7, 2023

The acquisition of the ISO9001 quality management system re-certification certificate also marks that Percherry has maintained international standards
in the construction of quality system, and is also a comprehensive test of the standardization and standardization of the company's management work,
which is an important guarantee for the sustainable, stable and healthy development of the company.

We will further optimize and standardize various management systems, constantly improve the effectiveness of system operation,
constantly improve the management level of the company, and jointly promote the rapid development of the company. Since then,
Percherry will use a more standardized process, more stringent quality management standards to constrain the service process, to provide customers
with high quality and high standard of service, so that Puteli's products and services standardization level to a higher level!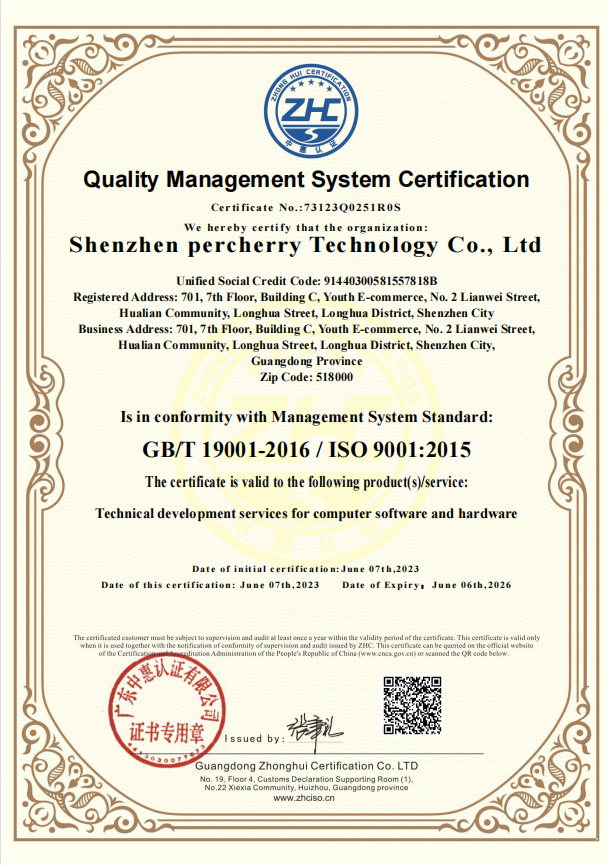 ISO9001 quality system certification standard is a summary of the development of management theory and management practice in many countries, especially in developed countries over the years, which reflects a management philosophy and quality management methods and models, and has been adopted by more than 100 countries and regions in the world.
ISO9001 international quality management system standard is by far the world's most mature set of management systems and standards, is the foundation of enterprise development and growth.